T-Ports specialises in innovative solutions for the export of Australian commodities, partnering with customers and investors to use a flexible model that positions port infrastructure close to the product's origin.

Tranship
Transhipment involves using smaller feeder vessels

Commodities
More cost-effective way to move commodities

Global
Exporting commodities all over the world
As a port and transhipment vessel design, build, own and operating company, T-Ports offers a comprehensive long-term supply chain solution, including financing, design, construction, delivery, management and operation of port and transhipment operations.
The T-Ports innovative business model offers financing options for supply chain solutions, providing equity against throughput to key customers.
By moving the port closer to the product, there is a reduction in domestic haulage distances, a reduction in regional road budgets and a reduction in carbon dioxide emissions. Resources that are uneconomical due to long haulage distances become economical when the port is moved significantly closer to the product.
We are passionate about driving inevitable changes to port construction and marine operations using disruptive advanced technology to decentralise assets and increase efficiency.
We require a fraction of the capital expenditure to build shallow-water ports compared to a deep-water facility and operating expenses are highly competitive in comparison.
By offering skills and knowledge in planning, designing, engineering and building infrastructure, T-Ports offers a unique solution to customers, allowing the development of efficient port infrastructure to ensure project's economic viability.
Have a project or development?
Talk to us about how we can help.
T-Ports specialises in innovative solutions for the export of commodities, partnering with customers and investors to use a flexible model that positions port infrastructure close to the product's origin.
T-Ports was established in 2018 to initiate the $130 million Lucky Bay Port Facility development, securing private investor equity and debt.
The name T-Ports is based on the use of transhipment vessels, reflecting the innovation central to the Lucky Bay project in moving away from the region's traditional port model.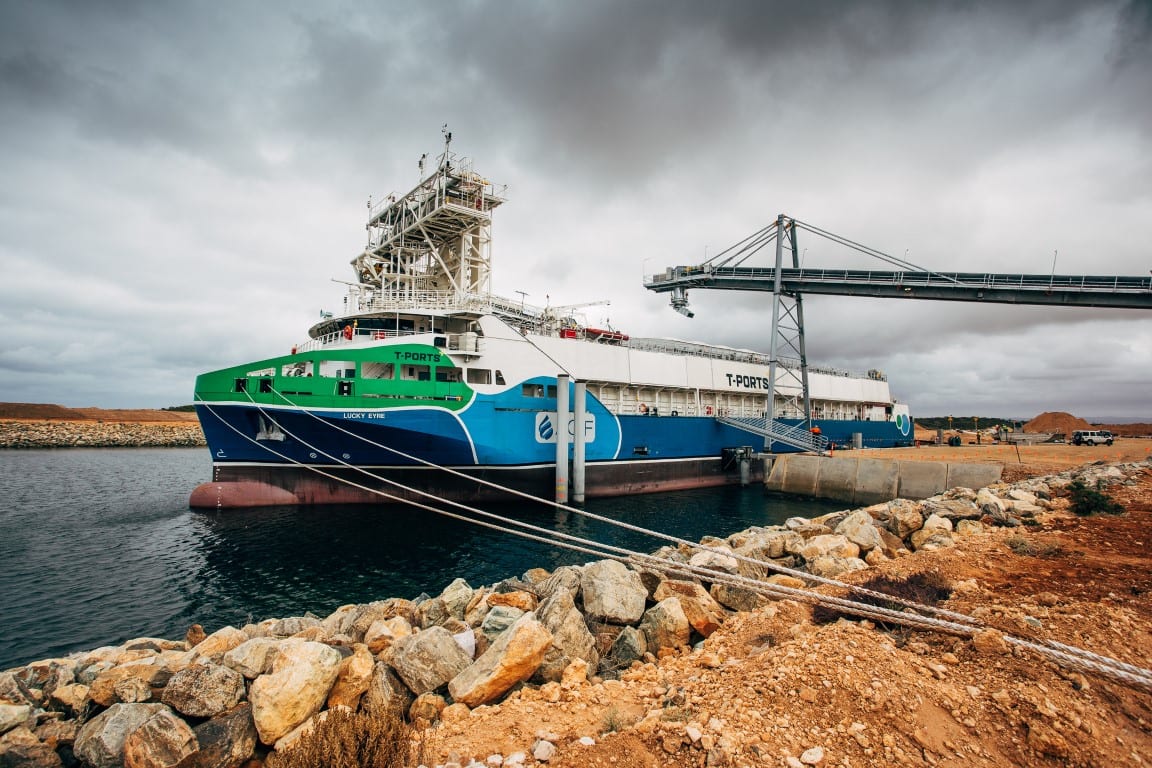 T-Ports' infrastructure strategy centres on developing a more financially feasible ports model. This includes shallow water ports with a lower build cost and smaller environmental footprint requiring modest throughput, providing sound financial returns to investors.
This model means growers can access multiple small ports that can load vessels up to and including cape size. This allows product to be exported profitably, providing a great benefit to EP growers and South Australia.
The ports constructed by T-Ports will be multi-user and multi-commodity transhipment ports, with the first at Lucky Bay on Eyre Peninsula and a second planned for Wallaroo on Yorke Peninsula. Lucky Bay's development has been based on agricultural product and over time, will be expanded to allow export of local minerals.
One of the major longer-term changes anticipated is that some farmers will move to on-farm storage for the efficiencies it will generate for their businesses. This would generate supply chain cost savings by being able to deliver directly to port.
This will occur through avoiding the up-country storage charges and using farmer-owned truck assets. This will take costs out of their businesses, making them more competitive against the 'real' competition – other grain exporting nations.
T-Ports – bringing the port to the product
multi-user, multi-commodity ports
The benefits of transhipment

Reduced port charges
Transhipment involves using smaller feeder vessels.

Faster transfers
T-Ports achieves faster transfer rates than conventional transhippers.

Financial safety
Financial risk is reduced as companies have a smaller footprint in on-shore infrastructure.

Lower requirements
Lower manning and power requirements than conventional export systems.
Transhipment involves using smaller feeder vessels to take product from a shallow water port to an ocean-going vessel, waiting in deeper water. It has been used in industries outside of agriculture for the past 20 years.
The transhipment solution for each port and project is tailored to the individual requirements in the size and configuration. This is based upon the planned quantities and the product planned to be transhipped. T-Ports works with customers to develop transhipment options.
For Lucky Bay, T-Ports will use a shallow draft feeder vessel designed for shallow harbours. This is a quad screw, stern landing vessel suitable for bulk commodities or containers.
This transhipment vessel operates when wind speeds are 25-28 knots or below and wave heights up to 2.5 metres. Dust and transportable moisture limits are closely managed to avoid any problems.
Sea Transport is the designer of the transhipment vessel and has extensive experience in building similar ships.
At Lucky Bay, the transhipment vessel will load five nautical miles from the port.