Lucky Bay now offers an alternative grain storage and export option.

Lucky Bay port
Steel silos with approximately 24,000 tonnes of storage

Lucky Bay bunkers
The site features 360,000 tonnes of grain storage in 10 bunkers

Lock bunkers
The Lock bunker site features 200,000 tonnes of grain storage in 11 bunkers

Transhipment vessel
The state-of-the-art-transhipment vessel  MV Lucky Eyre has a loading capacity of up to 1,200 tonnes per hour
T-Ports specialises in innovative solutions for the export of commodities, partnering with customers and investors to use a flexible model that positions port infrastructure close to the product's origin.
At the Lucky Bay port site, 24,000 tonnes of silo storage has been built. These fumigable permanent steel silos can be filled directly by trucks from external storage or from the nearby bunker site via an internal haul road between the two Lucky Bay sites.
The silo design includes belts, gantries, services, framework, conveyors, piling and concreted works and is based on 'off the shelf' solutions.
The port itself underwent a harbour extension in 2014 and now incorporates two berth pockets for simultaneously loading or discharging two 87-metre or longer self-propelled self-discharging vessels.
Handling facilities at the port have been designed to be competitive and efficient for the long-term. They consist of a dual hopper which can facilitate truck discharge of 1000 tonnes per hour.
The hopper feeds a conveyor system which feeds directly to the loading conveyor or is tipped back to the silos.
Tonnes of Storage capacity
Lucky Bay Port Rules
Port Rules are intended to inform commercial users of the port of their responsibilities for the safe navigation of vessels within that port. These rules are a summary and are to be used as a guide only of the legislative/contractual agreements.
The site at Lucky Bay has been transformed with 360,000 tonnes of grain storage in 10 bunkers. The bunker site features dual-automated 40-metre weighbridges and two dual-sided sampling offices with automated probes.
Bunker design is based on operational efficiency including intake speed at 24,000 tonnes per day, efficient truck turnaround, out-loading speed, compliance to fumigation rules, automation and minimisation of work health and safety risks.
There are six drive over hopper stackers at the Lucky Bay bunker site, each with capacity of approx. 600 metric tonnes per hour. 
Tonnes of Storage capacity
Tonnes of storage capacity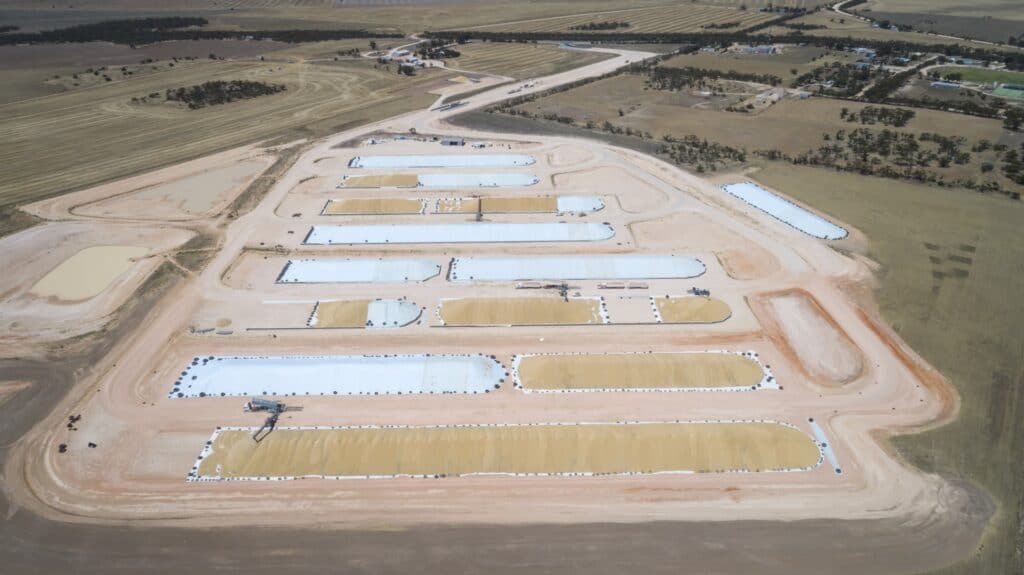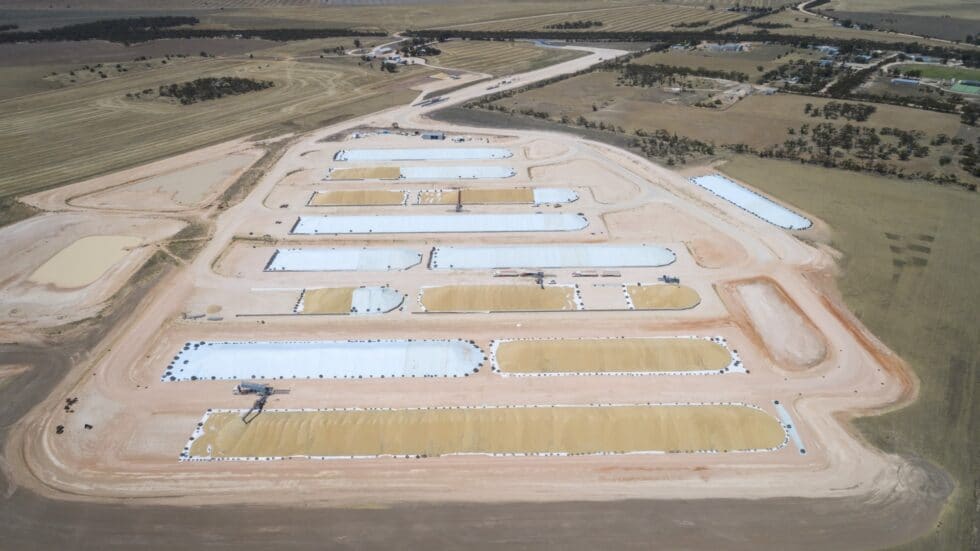 The Lock bunker site has been built on the north-west corner of the town. The site features 140,000 tonnes grain storage in six bunkers.
There are four drive over hopper stackers at the Lock bunker site, each with capacity of approx. 600 metric tonnes per hour.
The Lock site has been strategically located to ensure easy access for growers regardless of which direction they approach from. There have been extensive roadworks as part of a major upgrade to the intersection of the site entry with the Tod Highway, ensuring safe and easy access.
Tonnes of storage capacity
The Kimba bunker site has been built at the Eyre Premium Hay premises east of Kimba.
The T-Ports facility at Kimba consists of four bunkers with a total storage capacity of more than 150,000 tonnes.
Grain intake is via high-capacity drive-over hopper stackers and existing IT systems are in place to ensure seamless receival data capture. The site is complemented by 1 weigh bridge and 1 sampling office.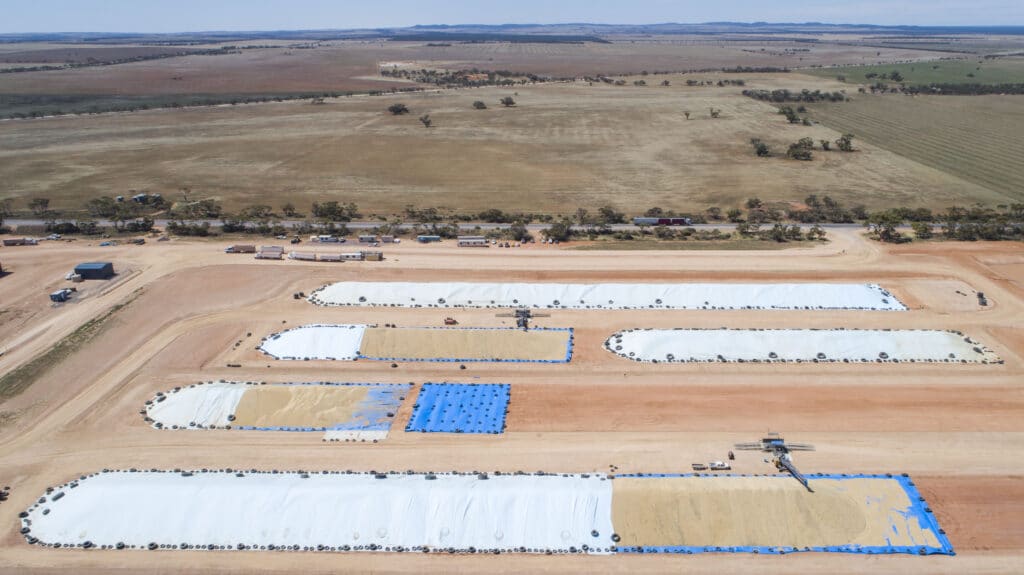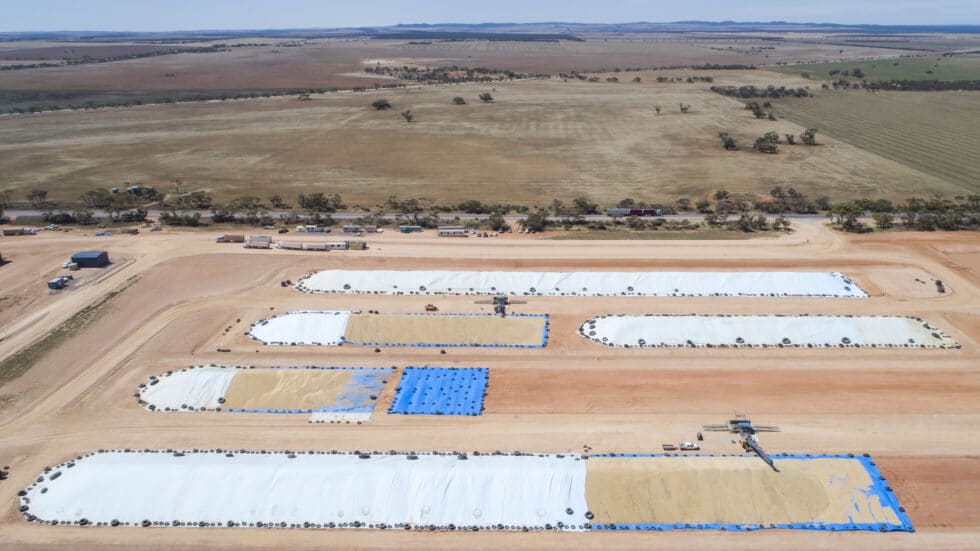 The transhipment vessel (TSV), MV Lucky Eyre, loads grain from port and unloads onto deep water vessels five nautical miles from the port. It is capable of loading up to Panamax size vessels.
The Lucky Eyre is an 87-metre self-propelled, self-discharging vessel with a capacity of 3,200 tonnes and a nameplate loading capacity of up to 1,200 tonnes per hour.
The design of the vessel is based on previously designed and built vessels, including the MV Aburri, which has been used for the past 20 years for transhipment of lead nitrate in northern Queensland.
Previously unseen in Australia for grain exports, the use of a transhipment vessel means T-Ports requires less than four metres of depth in the harbour, eliminating the need for major jetty structures and other port infrastructure.
T-Ports transhipment technology is capable of operating in seas of up to 5m wave height and 30 knot winds.
A transhipment port facility has a much lower environmental footprint, reducing the ecological disturbance in comparison to deep water facilities.
Due to the port being located close to the product, these facilities substantially reduce the road haulage distances, hence reducing the cost to government for road repairs and maintenance and reducing carbon dioxide emissions considerably.
Resources that are uneconomical due to long haulage distances, and the cost of same, become economical when the port is moved significantly closer to the product.
Fully designed and constructed under T-Ports order, commissioned March 2020.

87m in length, 18m breadth.

Self-discharging at 1,200tph (2 x 600tph bucket elevators).

Self-propelled, quad screw with 4 x 625Hp drive motors, bow thrusters.

Zero ballast, full ocean-going capabilities.

3,200 tonnes of wheat capacity

Stern ramp / RORO capability

8 Crew, T-Ports employees.

1.8m draft empty, 3.9m draft fully laden.

Travelling gantry scraper feed into elevator hoppers.
Tonnes per hour loading capacity
metres - depth required at port