Please read on for more information regarding harvest operations and to find important documentation regarding fees and warehousing terms and conditions.
SIGN UP FOR SMS HARVEST UPDATES
T-Port Harvest App Get Started Guide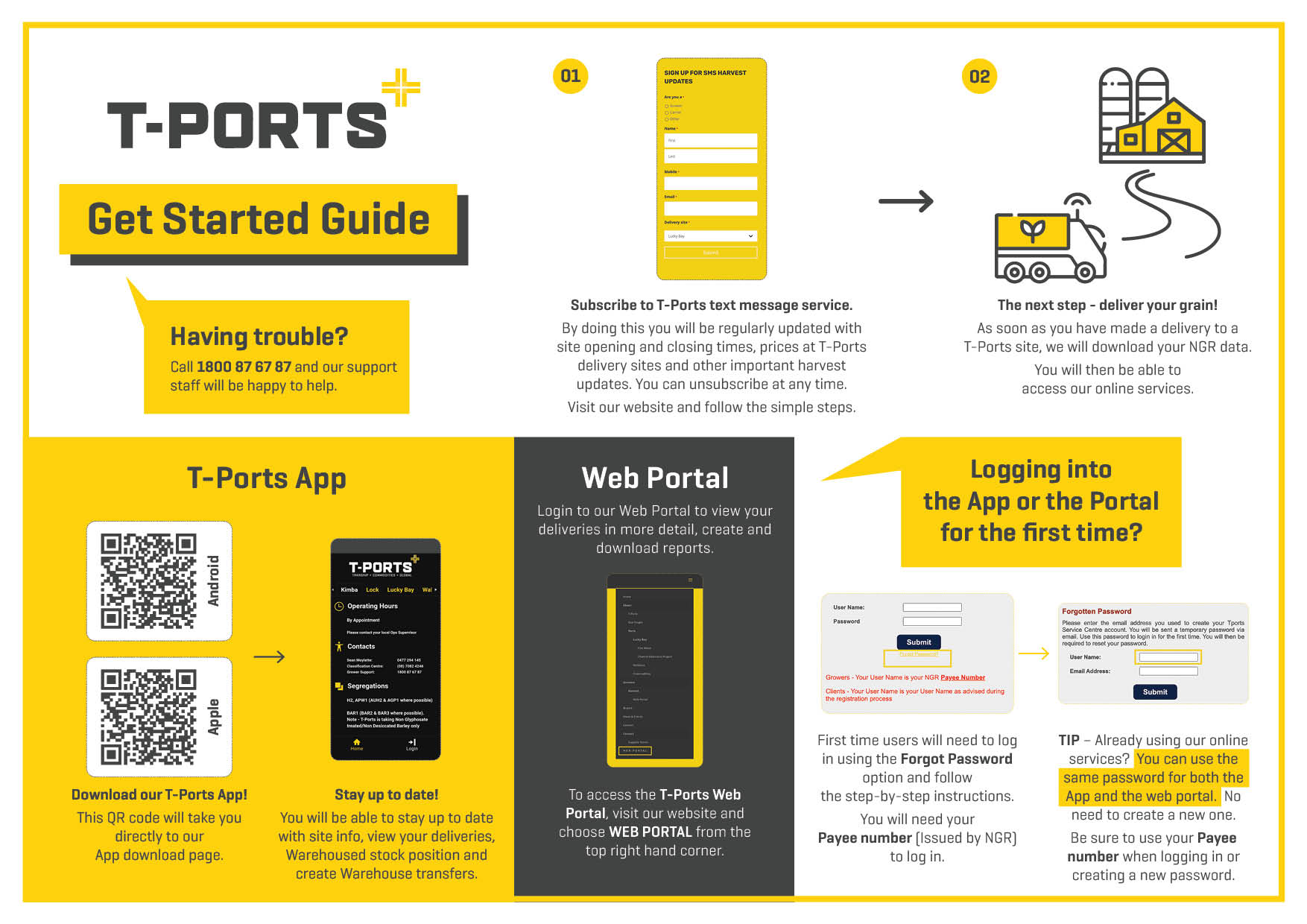 Online induction
The safety of all who enter our sites and the preservation of the quality of the grain products we handle is paramount to our sustained success. We need your cooperation to ensure our sites remain safe and your grain remains contaminant free.
T-Ports requires all people over the age of 15 who enters a T-Ports site to have completed an online induction. At the completion of your training, you will receive an access card. This must be carried with you at all times and may be requested by a T Ports representative at any time.
Please ensure you complete the induction carefully, adding your mailing address, so the induction card can be mailed to you. While waiting for your card to arrive, please print a copy of the certificate once you have completed the online induction.
Harvest Handbook
The T-Ports Harvest Handbook contains detailed information on how to deliver grain to T-Ports. Before delivering to a T-Ports site, please read this Handbook to ensure you are up-to-date with T-Ports procedures.  The following checklist provides the basic information to ensure your experience with T-Ports is smooth and problem free.
PRE-DELIVERY
Confirm site hours and available services – Please check

 

www.tports.com/harvest,

 

subscribe to the SMS service and download the T-Ports App.
Ensure a Harvest Delivery Form is completed and both the farmer and driver have signed off on each load
National Grower Registration (NGR) number is registered and ready for delivery
Delivery options have been discussed with driver/carrier (overloading/downgrading options)
Ensure you have completed your online induction and have your temporary certificate and/or card before arriving on site
STORAGE & HANDLING
T-Ports provides storage for wheat and barley
All T-Ports Storage, Handling and Freight charges are available on the website:

 

www.tports.com/harvest
COVID-19 SAFETY MEASURES
Please do not attend site if you are feeling unwell, showing any symptoms or have been COVID-19 tested and are waiting for results. This includes employees, growers, carriers, contractors, suppliers and visitors.
When visiting T-Ports sites, please maintain physical distancing of 1.5 metres at all times.
Entry is not permitted into a classification centre without a mask. Where possible, we request growers/carriers do not enter a classification centre unless necessary.
Please ensure you use hand sanitiser prior to entering. Sanitiser will be available outside the classification centres.
Please bring your own pen to use in the classification centre.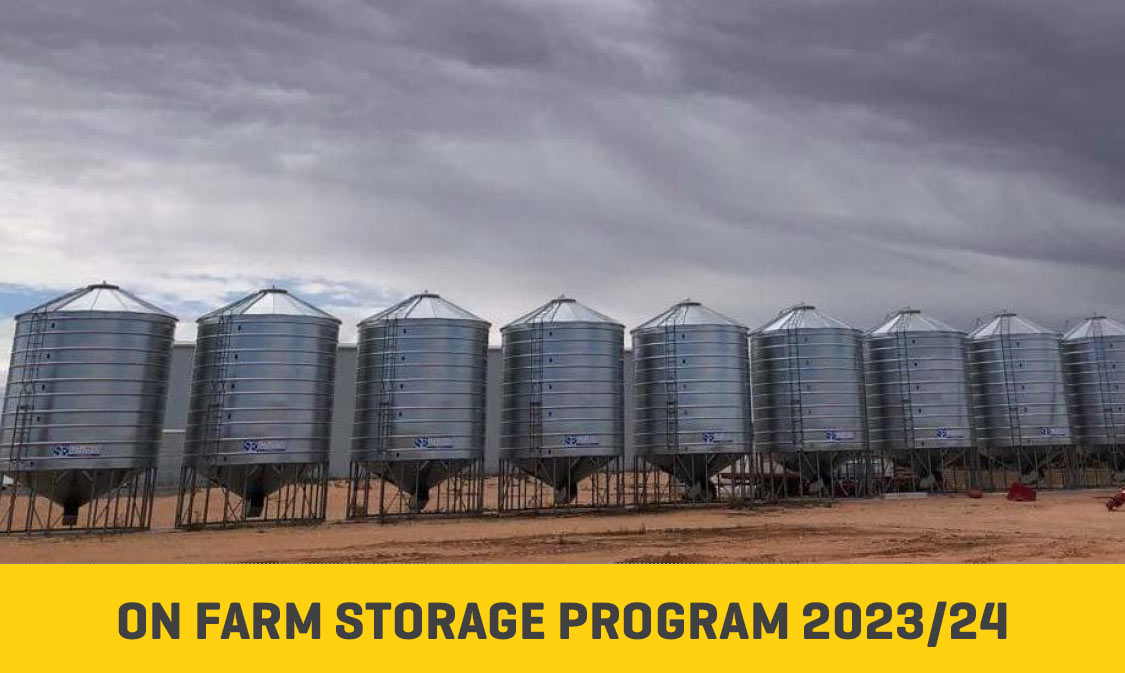 On Farm Storage Program
At T-Ports, we understand the pressure of harvest logistics and are pleased to support growers with our On Farm Storage (OFS) Program with a $10 per tonne payment direct to growers from T-Ports.
The OFS Program is purely focused on providing growers with an incentive to use or build OFS infrastructure to capture better control of their product and revenue. We can create efficiencies by directing grain delivered from OFS direct to our port bins at Lucky Bay or Wallaroo in readiness for immediate shipping. Such efficiencies drive cost savings that will be passed onto participating growers.
How can growers maximise returns? How can T-Ports encourage convenient throughput into our supply chain?
THE SOLUTION: T-Ports On-Farm Storage Program
OFS is becoming more prevalent and justifiable across our farming regions given the grain price fluctuations and logistical restrictions, it's important we can reward you with these incentives to not only continue to grow our customer base but to ensure that the OFS network continues to play an important role within your farm operations to increase your revenue and decrease harvest logistical pressure.
For information on delivery windows and grades, quality requirements, sampling, declarations, freight and communication please contact the T-Ports Operations team.
Register by 30 November 2023
Contact Tim Gurney on 0428 867 070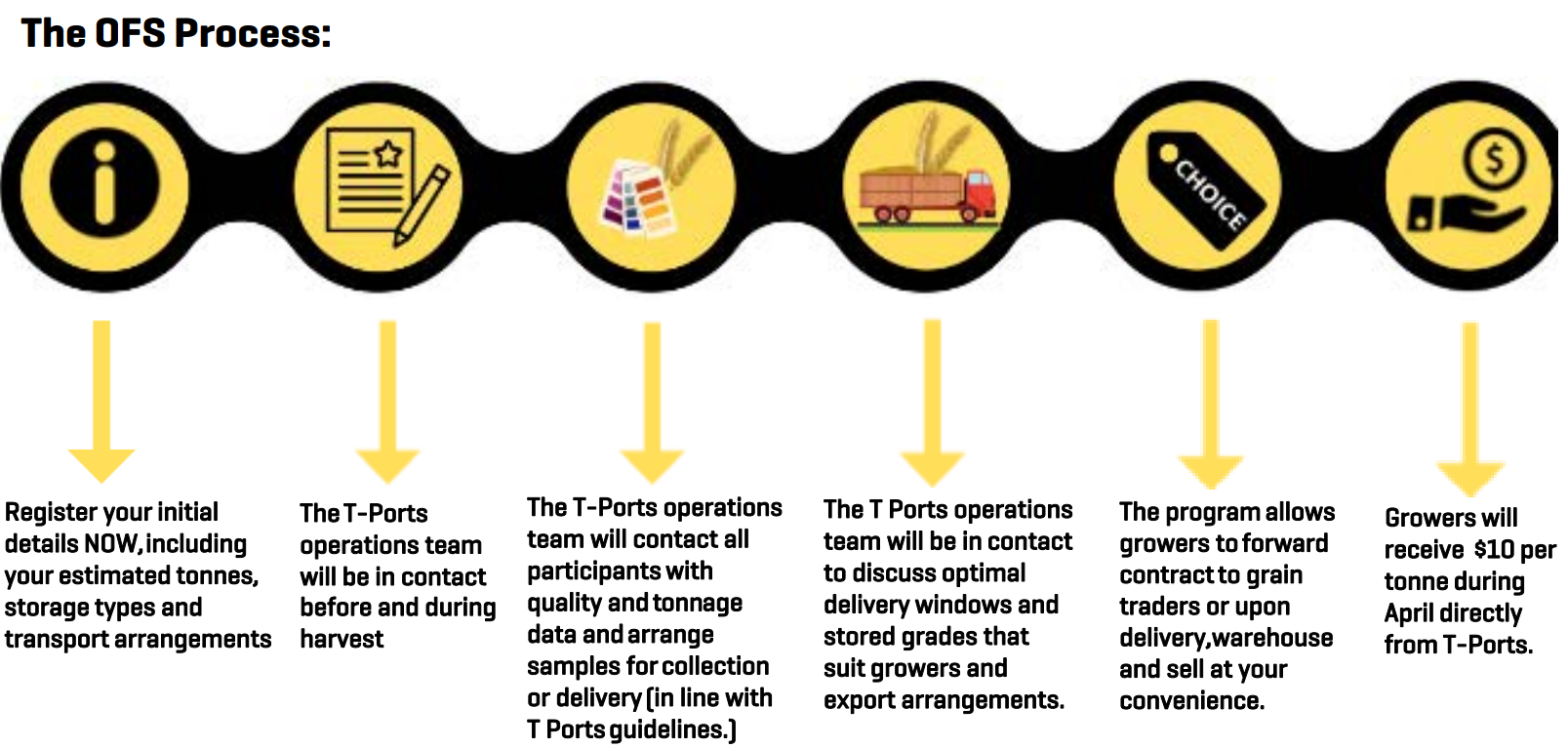 *T-Ports has put together an On-farm storage Flyer (PDF) to assist growers by providing detailed information on the entire OFS undertaking.
Louis Dreyfus Company
Louis Dreyfus Company (LDC) provide cash pricing at T-Ports Lock, Kimba and Lucky Bay sites.
Call 08 86 641 789 for pricing.
AWB / Cargill (EP)
AWB / Cargill provides cash pricing for T-Ports Lock, Kimba and Lucky Bay sites.
Contact AWB / Cargill directly for up-to-date pricing information.
Or call Craig Povey on 0427 600 882. 
Hartree Partners
Hartree is pricing grain within both T-Ports supply chains at Lucky Bay and Wallaroo.
Contact Henry Miles on 0438 273 346 or Brett Reid on 0439 001 495 for further details.
Australian Grain Export
Australian Grain Export Pty Ltd (AGE) is a grain marketing company founded in 1996 in the Mid North of South Australia (Maitland). 
Please contact AGE directly for up-to-date pricing information – 8832 2800.
ADM
ADM provides daily cash pricing for T-Ports Lock, Kimba and Lucky Bay sites. Register directly with ADM for regular pricing updates.
ADM can also provide ex-farm pricing for post-harvest delivery, where growers can take advantage of freight efficiencies. Call 1300 123 236.
Flexi Grain
Flexi Grain is this year offering the Collaborative Export Program to growers who deliver grain to T-Ports. By exporting parcels of grain directly into global markets, Flexi Grain is able to access true global values for EP grain.
Flexi Grain will be actively managing price risk and providing regular strategy updates to participating growers. Call Sam Grieve on 0400 688 515.
Olam Agri
Please contact Nick Roberston 0439 573 352 for up to date pricing or more information.
AGT Foods Australia
AGT Foods Australia (A division of AGT Food and Ingredients) are available to discuss pricing across T-Ports SA Supply Chain by contacting Riley McDonald on 0429 459 301 or Leigh Wright on 0439 459 305.
Advantage Grain Pty Ltd
Structured wheat, barley and canola marketing. Advantage is a low risk, structured way to market your grain. They deliver a low-risk approach to grain marketing. It sells an equal amount of grain over a 2, 4, 5 or 10-month time period. Call David Long on 0427 012 273.
Market Check
Market Check is an independent, Australian owned business that offers year-round grain marketing education and services to Australian farmers.
Please contact Market Check directly for up-to-date pricing information – (08) 8661 7130.
Clear Grain Exchange
Clear Grain Exchange operates an independent and secure grain exchange enabling all buyers, sellers, and their agents, to bid or offer grain at their price in an open and transparent market with secure settlement.
Contact them for more details on 1800 000 410.
Ex-Farm Treatment Declaration
If you are delivering grain ex-farm, you are required to complete the Ex-Farm Treatment Declaration form.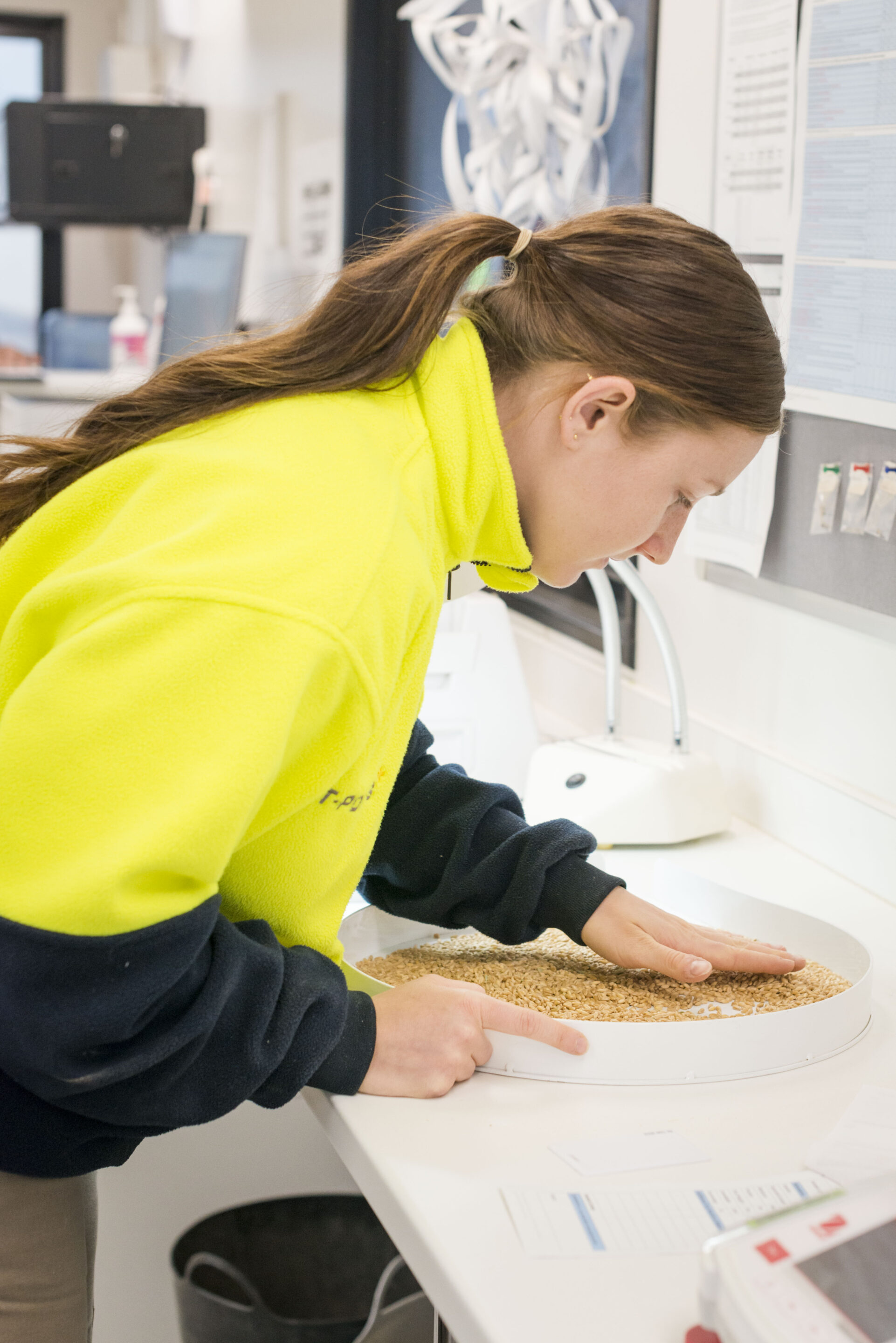 Active Binning
Growers can capture more value for their grain this harvest through active binning at T­ Ports sites. The active binning system enables growers to potentially achieve higher grades for their grain for those times when key specifications fall marginally outside receival standards.
Active binning is available for most wheat and barley grades at this stage and provides flexibility based on the quality parameters of protein, moisture, test weight and screenings.
T-Ports will actively manage grain partitions with live quality statistics to ensure they are maintained within Grain Trade Australia [GTA] outturn standards to ensure grain will be out turned to meet export requirements within specification. Active binning will cease to be offered or not be available for grades where GTA outturn standards cannot be achieved.
GROWER WAREHOUSING TERMS & CONDITIONS
WEB PORTAL
T-Ports offers growers access to their grain stocks to enable warehouse transfers via an online grower portal.  A login will be created when a grower/carrier delivers to a T-Ports site.
How do I access the web portal?
Access to the portal will be activated after you deliver for the first time to a T-Ports site. When your NGR card is presented upon delivery, this will link your data from NGR into the T-Ports online data management system. You will then be able to visit the portal and use your NGR payee number to set up an account.
The portal is now available at https://portal.tports.com.au/.
How do I reset my password?
Upon your first login this harvest, you will be required to reset your password. To do this, enter your username (Payee Number) and hit the "Forgot Password" link. You will be prompted to enter your username again and your email address. Your email address must be the same as the one you have registered with NGR.
You will receive an email with a temporary password, which you will be prompted to change when you login next. When you log in, the Password Change dialog box is displayed, where you will be prompted to enter the new password.
Your password must contain:
At least one upper case letter
At least one lower case letter
At least one number
At least one symbol
Click Submit. Once the new password is accepted, you can navigate to the home page.
Web Portal - Grower User Guide
T-Ports has compiled a Web Portal User Guide with detailed information on performing various tasks within the portal.
What is a payee number and where do I find it?
The payee number is issued by NGR and is made available to the growers when you first registered with NGR.
Your Payee ID is an 8-digit number that is shown in brackets next to your Trading Name, either on an NGR form; through myNGR Online; or via my NGR Mobile. 
You can also find your payee number on a remittance advice from a grain buyer.
Alternatively, you can contact T-Ports on 1800 87 67 87 who will advise your payee number.
How can I do warehouse to warehouse (grower to grower) transfer?
Transferring grain from one NGR card to another is a straightforward process using the T-Ports web portal.
To do a warehouse to warehouse transfer, simply follow the process for Making a Transfer as outlined in the User Guide, then select the NGR card you wish to transfer the grain to. Follow the rest of the steps and the grain will be transferred.
How can I manage a sharefarming / split card arrangement?
When a NGR card is set up as a split card, it is set up to split only the payments, not the entitlement (ownership) of the grain. Therefore, this should be considered before or at the time of delivery. If the two parties on the split card are likely to want to choose different marketing options, it is best to deliver on two NGR cards and split the loads.
 Alternatively, if the grain is warehoused on the split card, you can undertake a transfer using the T-Ports web portal.
 If quality data needs to be retained for payment purposes, the grower to grower transfer will need to be carried out ticket by ticket from the 60/40 card to the individual 100% NGR cards. This will mean two transfers for each ticket.
Who can I contact if I need help?
If you require assistance with the T-Ports web portal, please call 1800 87 67 87 and follow the prompts to be directed to a member of the service team.
Alternatively, you can email your inquiry to support@tports.com
Receival standards
T-Ports receival standards will follow industry best practice and will be based on standards set by Grain Trade Australia, the Australian Oilseeds Federation and Pulse Australia.
We will be implementing an Eka-developed IT platform used in the grains industry for many years.
To ensure accuracy and consistency in the classification process, T-Ports will employ the latest technology to automate as much of the process as possible. Automatic truck probes and protein machines will be linked directly to computers, eliminating potential manual data entry errors.
Harvest Delivery Form
Copies of the Harvest Delivery Form booklet are available at Wallaroo, the Lock and Lucky Bay bunker sites, the Kimba Transport office, Landmark Kimba, Ramsey Bros Cleve and Wudinna, or from Business Development Manager Tim Gurney.
Product ownership security
Under the grower warehousing terms and conditions and the Personal Property Securities Act 2009 Cth, any grain delivered to a T-Ports site remains the property of the owner (grower) and not the storage provider.
Safety
Safety is a main pillar of our business and driver safety is paramount on site.
Enclosed footwear and hi-visibility clothing are essential when undertaking any deliveries to site. There will also be a short driver induction process upon your first delivery.
Freight Rates
Freight rate has been advised to the trade and may be reflected in the pricing differentials between the sites.
Eyre Peninsula Freight Group
T-Ports has developed the T-Ports Eyre Peninsula Freight Group, or T-Ports Freight Service. This group of local carriers from across the catchment zone enables T-Ports to offer an efficient freight service to our grain traders and growers.
T-Ports is committed to supporting local employment by engaging local carriers and ensuring competition in our catchment zone. It is our aim to ensure the T-Ports EPFG get first preference for all commodities/goods that will be handled by T-Ports.
The EPFG director is Daniel Gregory from Kimba Transport. If you need any further information on the EPFG please contact Tim Gurney.

T-Ports Pty Ltd is a Corporate-member of Grain Trade Australia for the financial year 2022/2023. All grain received will be in line with GTA and other industry standards.