Early site works, including demolition and civil works, will begin in the next month at T-Ports Wallaroo grain export facility after Minister for Infrastructure and Transport Corey Wingard signed off on the project's Crown Development status, enabling the further progression of development approvals for the facility.
T-Ports Chief Executive Officer Kieran Carvill said the Wallaroo facility, which also has the support of the Copper Coast Council, will be ready to receive grain from the 2021/22 harvest. The port is owned by the ICAM ACIF Infrastructure Trust and operated by T-Ports.
"The port at Wallaroo is the logical next step in the T-Ports journey following the successful first harvest and export season at Lucky Bay on the Eyre Peninsula," he said.
"Planning has included significant scoping studies of the coastal environment, shoreline, inland freight networks and economic feasibility to ensure the port's long-term sustainability.
"There are efficiencies and cost savings in building this port on the opposite side of the Spencer Gulf to Lucky Bay as we will use the same transhipment vessel, the MV Lucky Eyre.
"We're looking forward to offering competition for growers in the Yorke Peninsula and Mid North regions and delivering significant supply chain savings."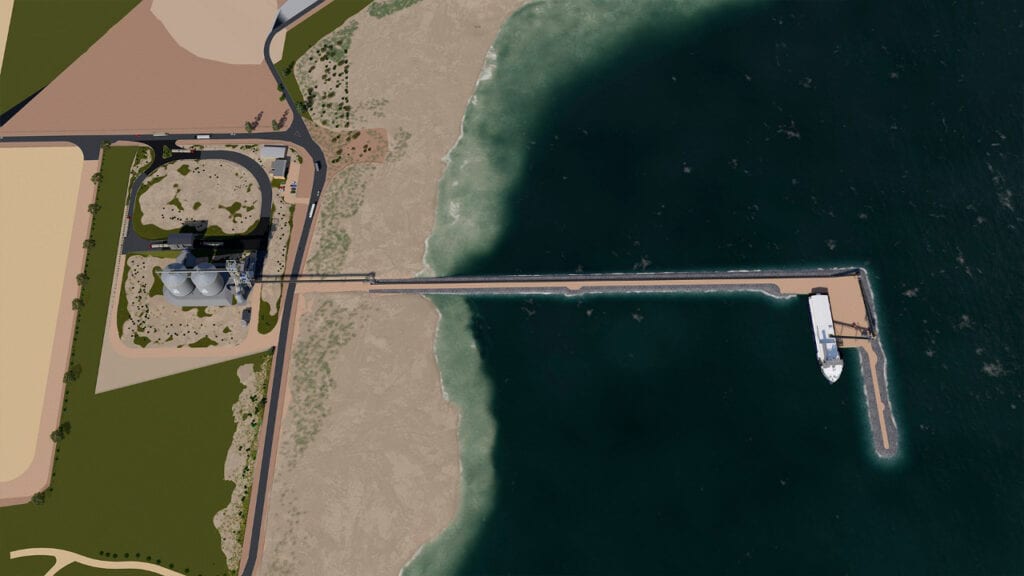 The grain export facility will feature steel silos with 20,500 tonnes of grain capacity and a 500 metre rock causeway with grain conveyed to a ship loader for loading onto the transhipment vessel. A bunker site will feature six bunkers with a total of 240,000 tonnes of grain capacity.
"The construction process will take between 12 and 18 months and during that phase we will look to utilise South Australian expertise and contractors as we have done at Lucky Bay," he said.
"We are pleased to welcome Allied Grain Systems as the builder of the grain export facility.
"We expect up to 200 jobs will be created during the construction phase."
Mr Carvill said T-Ports' use of disruptive state-of-the-art technology provided an alternative for infrastructure projects in South Australia.
"South Australian grain growers are the first to benefit from our innovative transhipment technology positioning port infrastructure close to a product's origin," he said.
"Having a larger number of regional shallow-water ports, rather than transporting commodities to city ports on trucks or trains, makes sense. "T-Ports is committed to building infrastructure enabling growth in South Australia and is proud to be part of the state's economic recovery following the COVID-19 pandemic."